Inblick Östeuropa used to be a student magazine at the Department of East European Studies (which later changed its name to Department of Eurasian studies) at Uppsala University. The student association Östeuropaforum (East European Forum) started the magazine in 1999. After a break of five years Inblick Östeuropa is back again. The last article came in 2010. New articles is coming soon.

The aim is highlighting, as far as possible, the entire geographical area, which still often is called "Eastern Europe". Another aim is to choose topics that reasonably well cover areas like society, economy, politics, history and culture. In the magazine you will find in-depth articles e.g on conditions for democracy, historical processes and/or ethnic conflicts.
Inblick Östeuropa is a non-profit on-line magazine which currently is based in Uppsala, Sweden. Many leading researchers and journalists have published their articles in Inblick Östeuropa.

There have been many people who have been part of Inblick Östeuropa`s editorial staff through the years, but some people need to be mentioned specifically as particularly important (here in alphabetical order): Tomislav Dulic, Linda Källman, Johanna Melén, Nejra Milisic, Teresa Vihtma and Elisabeth Sandberg (the latter is the only one who has been there from the the start in 1999).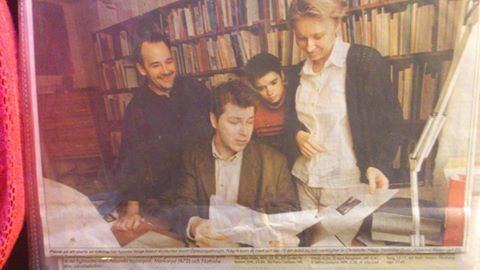 From an interview made by UNT (Upsala Nya Tidning) in 1999 when Inblick Östeuropa released its first issue. The image shows some of the first editorial staff